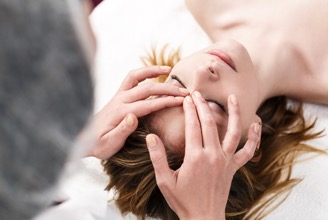 Ok, so you've definitely heard of Botox, but did you know that there is a safer, more effective alternative? It's called The Gemstone Acupuncture Facial Rejuvenation Method.
Facial Rejuvenation with the ultimate combination of Acupuncture, Gemstone Gua Sha and cupping facial massage is the practice of placing Acupuncture needles in specific points of the face and neck, specifically focusing on facial muscles that improve skin tone. You might expect a traditional facial to concentrate on just the face; Cosmetic Facial Acupuncture is a whole body approach. The key to this treatment is that targeting your skin holistically ensures a skin transformation and glow from the inside out. You'll be pleased to know that it is an effective skin tightening, pain-free, safe treatment and rarely leave any marks or bruising.
While Botox is incredibly popular, that doesn't mean that it is good for you. Simply put, Botox is actually derived from poisonous bacteria and is injected into your body, one of the risks may include allergic reactions. Moreover, a problem with Botox is that we don't really know what the long-term effects of continuous usage are.
If whole body, radiant health is important to you than cosmetic Acupuncture is right for you.  Facial Acupuncture is an all natural, anti-aging treatment that successfully stimulates the body's healing energies and increases circulation to the face, improves the appearance of fine lines, skin texture and tone. 
Call today for a free 5 minute phone consultation to discuss all of your skin care needs. Schedule an appointment by calling 310.923.1314 or e-mail us at chandrascofield@gmail.com
Los Angeles, acupuncture facial clinic