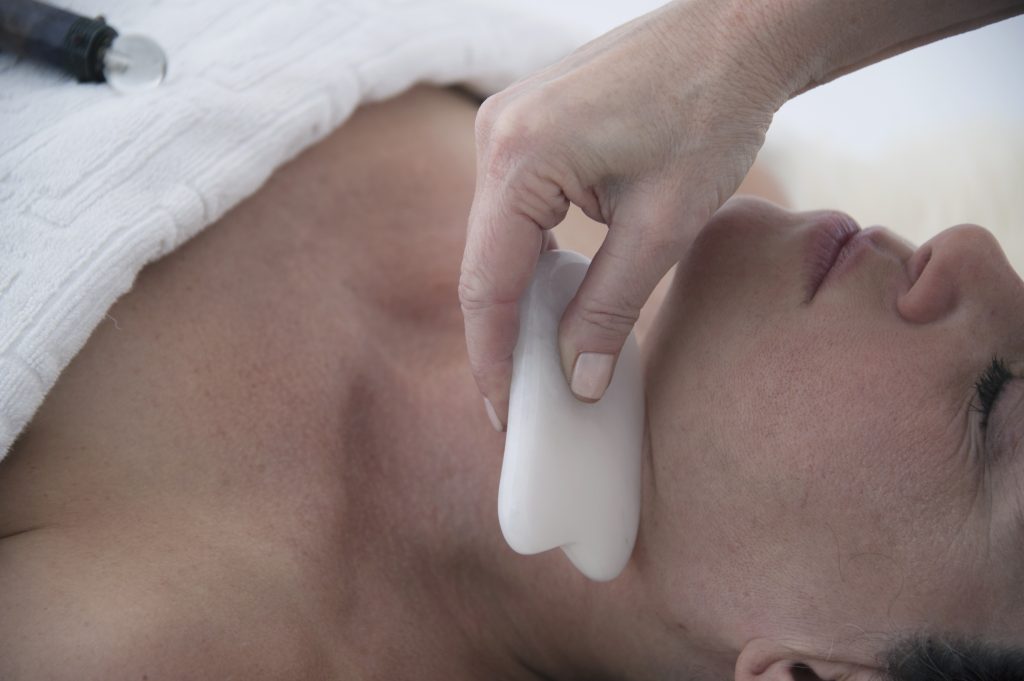 You may think that the recent Gua Sha craze is a relatively new facial trend, but would you believe it's been around for 1000's of years?  Gua Sha is an ancient method of facial and body massage originating in China and South Asia. Gua Sha is often used on the body, but Chandra has developed a custom Gemstone Gua Sha Method over the past 10 years in her Los Angeles Facial Acupuncture skincare clinic. This very special method is painless and feels like the most amazing facial contouring massage. The results are a powerful anti-aging, detoxifying, lymphatic drainage massage that will tone and brighten your skin NATURALLY!!
So, what exactly is Gua Sha? It's a facial massage using custom designed crystal tools in a luxuriously sweeping motion across the face and neck. These tools can be made out of a variety of materials, with the most popular being jade, rose quartz and bian stone. Each tool side and shape have a uniquely different function and they are used in combination with a potent, homemade organic facial oil that is magnificently infused into the skin to nourish, heal and hydrate your skin. 
While you could DIY yourself a Gua Sha facial, however, it's not as easy as it looks. Be very careful not to cause more harm than good (bruises and broken veins, anyone?!). This is one facial treat where it makes absolute sense to see a skincare professional who will appreciate the delicacy of your facial skin, and can determine the right level of pressure, massage technique and placement for optimum results.
What kind of results can you expect from Gua Sha? The benefits of this facial are wide ranging, but the most noticeable effect is a brightening and plumping of the skin with a reduction in puffiness. This is because the gentle exfoliating motion of Gua Sha applies enough pressure to boost circulation and stimulate lymphatic drainage. Skin will appear smoother and more radiant as the blood naturally flows to the surface is replenished.
This treatment can also reduce facial tension and tightness, especially in the jaw area or if you have TMJ (Temporal Mandibular Joint) pain. Some of our Gua Sha fans have likened its effects to natural Botox! Performed correctly Gua Sha can also help to reduce fine lines, firm facial muscles and give you that luminous glow of natural radiant health. 
Gua Sha can transform your skin and get you feeling super charged and aligned! Click here to learn more about our green beauty Illuminating skincare treatments at Chandra Wellness that includes, facial cupping massage (non-marking), LED  light therapy, super potent infused essential oils, gemstone facial acupuncture and expert cosmetic acupuncture facials.
Schedule an appointment by calling 310.923.1314 or e-mail us at chandrascofield@gmail.com