All Natural Acupuncture Facial Rejuvenation
Acupuncture facial rejuvenation is a virtually painless, non-surgical method that reduces the signs of aging and regenerates the skins appearance. Based on the principles of Eastern Medicine, it helps the whole body look and feel better by addressing the physical and emotional patterns that contribute to the aging process.
Our Signature Facial Rejuvenation
Included in your Acupuncture facial session is a facial massage with my signature facial cupping massage (non-marking), Jade Gua Sha and intradermal rollers may be used with specifically designed organic serums and oils to firm neck, contour jawline, decrease puffiness and provide a glowing natural lift.
Give Your Skin A Lift
Cosmetic facial acupuncture, tightens pores, improves muscle tone and dermal contraction, while enhancing and increasing the elasticity of the skin. Acupuncture can reduce signs of aging by strengthening and stimulating the circulation of Qi within the meridian pathways of the face and neck.  You will look and feel more energetic, calm, vibrant and healthy.
What sort of results can I expect?
Softens fine lines

Tightens the skin and restores elasticity

Brightens overall complexion

Reduction in any hyper-pigmentaion

Reduction in puffiness around eyes

Improves Acne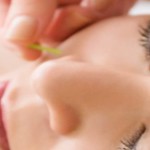 Schedule an appointment by calling 310.923.1314 or e-mail us at chandrascofield@gmail.com
Los Angeles, Facial Acupuncture Rejuvenation