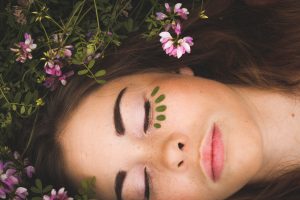 We cannot escape from the fact that our busy, often over scheduled modern day lifestyle is taking its toll on our health and it shows in our skin. Poor diet choices and the impact of stress are making us age quicker and potentially cause other skincare issues such as acne blemishes, rosacea, eczema, pre-mature aging and dryness.
If your feeling overwhelmed and like you can't seem it catch up. Take a breath and Download this FREE Meditation Mantra to help you to embody the spirit of inner peace.
Is Stress Taking A Toll On Your Skin?
In order to combat this we need to commit to taking care of ourselves on daily basis. A self-care routine could include incorporating healthier food choices into our diet, drinking more water (1/2 your body weight in ounces daily), practicing meditation and going to bed earlier. Just a few simple routines like this will do wonders for your skin. But if you want to take your self-care up a level, why not try our Gemstone Acupuncture Facial Rejuvenation Method? The fact that it is our most popular facial should tell you just how powerful it is!
What To Expect In A Gemstone Acupuncture Facial
A typical facial Acupuncture session will take around 60-70 minutes. Alongside the Acupuncture we have included our highly effective method of facial cupping and Gua Sha, which will further enhance your skin and help it to look in its best condition ever. Lie back and relax enjoying our non-marking facial cupping massage and a Gua Sha lifting neck massage, finishing off with a soothing, organic, all-natural blend of restorative Vitamin C oil to rehydrate your skin.
So what should you expect after your fabulous Gemstone Acupuncture Facial?
Typical Results Include:
Reduction of fine lines

Build-up and strengthening collagen

Lifting and toning of your skin

Improvement of skin texture

Brightening of skin

Feelings of relaxation and improved sleep patterns

Overall body balance

Sense of wellbeing

Glowing from the inside out
How Many Sessions Do I Need?
We recommend 10 treatments for optimum results. These should be spaced out with 2 sessions a week for 5 weeks, and then to keep on top of your fabulously smooth skin, have a touch-up session once every 4-6 weeks. If you aim to have a series of 10 sessions once a year with a maintenance program, this should help you to retain the youthful glow of your skin for many years to come!
Schedule an appointment by calling 310.923.1314 or e-mail us at chandrascofield@gmail.com
Personalized, compassionate care one person at a time…
Acupuncture Clinic in LA